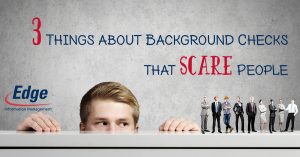 …How to Help Manage Those Boogeymen.
More than ever, companies of all sizes are committing to background checks on job hires. According to a recent survey by the National Association of Professional Background Screeners (NAPBS) and HR.com, of more than 1500 human resource professionals, 96% stated that their organization completes at least one type of background check.
A couple of reasons the majority of businesses conduct employee screening are to protect their employees and customers and protect the organization from employee theft and fraud. In addition, background checks are mandated in certain industries, like long term care and trucking, and in professions like child care providers.
Background checks can vary from a simple professional license check to a driving record report. But the most common check involves the search for criminal history, either federal, state or both. But before you do any of them, you must provide the applicant a compliant Disclosure and obtain their Authorization.
Legalese: Disclosure and Authorization
"We're from the government and we're here to help."  -Ronald Reagan
Companies which provide employers with background check reports, like Edge, are considered Consumer Reporting Agencies (CRA) by the Federal Government. Thus, the regulation that governs background checks is the federal Fair Credit Reporting Act (FCRA) – although, there are also a number of states which also have their own unique regulations.
One of the many requirements that Federal Government places on businesses that want to utilize a CRA to obtain background check reports deals with Disclosures and Authorizations:
Disclosure:  The applicant must understand and realize that a background check may be obtained on them as part of the employment process.  The FCRA states the disclosure must be a clear, conspicuous, separate and stand-alone written document.   It can't be buried within the application process.
Authorization:  The employer must also, obtain the applicant's written consent to obtain a background report.  The written consent can state that it is valid for future screening for retention, promotion, or reassignment.
WATCH OUT!  Adding "release of liability" language can be very problematic – consult with legal counsel.  Edge can provide sample documents to assist your legal counsel in developing a Disclosure and Authorization.
Inaccurate information
"Herrrrrre's Johnny!"   -The Shining
No one wants to be wrong, especially when someone's livelihood is on the line. Employers looking to reduce the risk of making decisions on inaccurate information may want to work with a nationally accredited agency.  The National Association of Professional Background Screeners (NAPBS) has maintained that there is a strong need for a singular, cohesive industry standard for consumer reporting agencies.
A systematic search methodology of conducting and researching information is needed by the background check company to consistently deliver accurate information in a timely manner.  It's of little consequence, no matter how fast the information is obtained, if that information is suspect or inaccurate.
Accredited firms, like Edge, continually meet a strict professional standard of specified requirements and measurements. This recognition stands as the industry "seal," representing a background screening organization's commitment to excellence, accountability, high professional standards and continued institutional improvement.
Handling adverse action
Fear makes the wolf bigger than he is.
~ German Proverb
Another requirement that Federal Government places on business is an Adverse Action process:
When an employer receives a background report and intends not to hire the applicant based on the report, under the FCRA, the applicant has certain rights.  A Pre-Adverse Notice must be sent to the applicant along with a copy of their report and a Summary of Rights in writing.  Then after a prescribed time-limit a final Adverse Action Letter must be sent.
The federal rules, time limits, disputes by the applicant, individual assessments, and in some instances other jurisdictions that have additional requirements must all be taken into consideration.
Edge provides sample Adverse Action forms for employer legal counsel review. Our compliance team is available for general FCRA training and specific Adverse Action webinars which can help large organization educate their human resource teams and, in some instances, can even help with the administration of the adverse action process.
The Edge Information Management Compliance Department works diligently to keep clients informed of the changing regulatory landscape as it relates to employment screening. This includes free webinars, a monthly newsletter, and just sharing timely updates on social media. Continuing support, communication and education can keep the boogeymen at bay.
For more information, email info@edgeinformaiton.com. Or, follow us on LinkedIn or Twitter @EdgeInformation.